In honor of my birthday, July 31st, I have decided that I am going to donate 33% of the proceeds I receive from my book, Peace in the Present Moment (with Eckhart Tolle and Byron Katie), to charity. Each year I am going to choose a different charity. I will announce which charity I will choose for each year on my birthday. I am so blessed and grateful for all of the wonderful gifts that I receive each and every day. I want to share my love.
This year I have chosen Safe Place and Rape Crisis Center, Inc. SPARCC serves its clients through an Outreach Center in downtown in Sarasota, satellite offices in Venice, North Port and DeSoto Counties, Florida. There is a shelter operating 365 days a year, a 24-hour crisis helpline, and hospital and local courthouse accompaniment.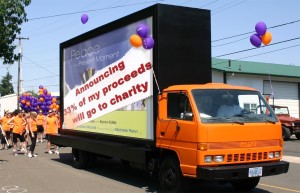 "If you are a survivor of domestic or sexual violence, you are not alone. SPARCC provides free and confidential services. Call 941-365-1976 to speak with a trained advocate 24 hours a day, 7 days a week."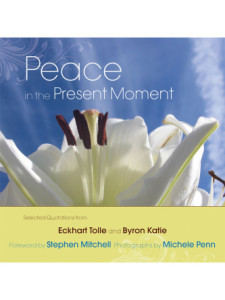 Why 33%. 33 is a very special number to me. That is why I specifically chose it as the percentage to donate. Here is our inspiring 33 story. Is this coincidence or the universe talking to us? ?
While we were in Puerto Rico, David asked for a sign from the universe, God, that our relationship was the Real Thing! It was too good to be true. His eyes were closed while we were walking past the casino in our hotel. I was leading him while we were holding hands. Before he even opened his eyes, we hear. . . DING! DING! DING! I turned around and saw a woman hit the jackpot and her slot machine dinging like crazy. It said MINOR 33 in HUGE letters. Minor is David's last name!! OMG. David opened his eyes as I am screaming – there's your name!!! We knew this was the sign. Talk about manifesting an answer immediately! But, why 33? Minor 33? As we watched, out of curiosity, we saw that it was a scrolling sign and it was telling you the minor numbers and major numbers. David felt that the 33 meant something also and we needed to follow through on that. What should we do? Well, we went to the roulette table. If we were really meant to be then the marble should fall on 33, right? So, we decided we would try only one spin . . . . . . We put a chip on 33 …
and…
it came up 33!
At different times over the next few weeks, David would say "show me again." Every time he asked, the number 33 appeared somewhere. It was either a license plate, a billboard, mile markers at the exact moment, street signs, taxi cabs with the phone number 333-3333 written on them, 33 on race cars, 33 on men's shirts, etc. etc. etc. Then, we noticed that our zip-code ended in 33, 33 was in my passport number, our favorite radio station is 93.3 and our doctor's office is at 3333 Cattlemen Rd. And, believe it or not, right now as I am writing this in my car (don't worry, I am parked) I looked up and saw it was 3:33, and my trip meter says 331.0 – I even took a picture.
We both have 3 children. 33 means new beginnings (and we were beginning our lives together), our business credit card has a 33 in it, 33 is the numerical representation of the Star of David, 33 is also the same numerical equivalent of the word, Amen, which means, let it happen. When the Miners were rescued from the mine (if you remember last year)…33 Miners were rescued. Remember, David's last name is Minor. David's cell phone number adds up to 33. OMG. We discovered, in numerology, 33 is a master number. 33 represents 2 numbers, 11 – illumination, and 22 – ability to build. Thus, 33 represents the ability to both illuminate and build others.
I am now a co-author in a book, The Faces Behind the Pages that Inspire, where I write about how I manifested the book, Peace in the Present Moment, and got to spend time with one of the most spiritual authors of our era, Eckhart Tolle. There are 33 women authors in the book!!!!! When the editor returned my story for me to approve, it was 33kb. I was also asked to speak on the international "A Victim No More Victory Tour." Guess how many women speakers? Yup – 33. This is another sign to me that this is exactly where I am suppose to be
How does the universe talk to you?
Peace and love, Michele Penn